Every web developer has made his or her own CMS, possibly even several times. Alone or in a team. What is often underestimated is the time and energy needed to maintain and improve everything once a website works with the CMS.
In the meantime, a number of large Content Management Systems have become established. One of them is WordPress, which supports about 30% of the most popular websites.
WordPress is known for its user-friendly backend and the many plugins that give you the opportunity to create all kinds of websites with WordPress. Where this used to be a real blog engine, it has evolved into a flexible platform to build all kinds of websites.
Another strength of WordPress is the large community that works together to make WordPress better. This is not just about programming! There are so many tasks to do that make WordPress what it is today. The power of a platform like WordPress is, in my opinion, determined by the community that contributes to WordPress.
How can I help?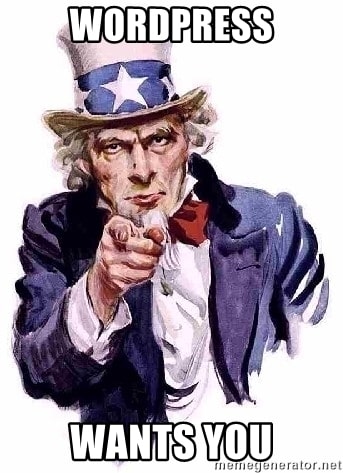 Anyone can become a member of the WordPress community in order to work on it and thus improve the platform. This is free and strongly encouraged. You don't have to be able to program, there are so many other tasks you can use your knowledge and skills for. This can range from supporting other users to development and marketing. You will have to find out which aspect of the community suits you best. This depends not only on your knowledge, but if possible even more on what makes you happy!
The WordPress community is divided into several teams, with each team focusing on a specific part of the development and promotion of WordPress. Below you will find a selection of teams:
Core: develop WordPress code
Design: improve and develop the user interface design
Accessibility: improve accessibility throughout the WordPress project
Polyglots: translate WordPress into your own language
Support: answer questions on the different support channels
Documentation: create documentation
Themes: assess and approve the themes submitted in the WordPress Theme repository
Plugins: review and approve the plugins submitted in the WordPress Plugin repository.
Training: make downloadable lesson plans and related material for teachers
Test: test, document and report on the WordPress user experience
The complete list of all existing teams can be found on the Make WordPress website.
Why am I putting that list here? To show that WordPress is about much more than just programming. Of course, without code there will be no WordPress, but you can use your knowledge perfectly in many other areas.
In addition to your knowledge, the time available is also an important factor in determining how you can participate in WordPress. I am convinced that you will be able to contribute when you can spend 15 minutes! Maybe let's start with translations?